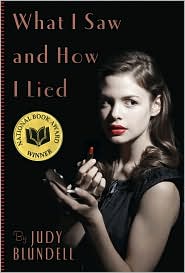 Sometimes I come across a description or a phrase that I adore and then I have to write it down. Actually, if you must know the truth, I get downright giddy when I come across a perfect description. I came across a gem of a description in WHAT I SAW AND HOW I LIED by Judy Blundell:
Chapter 15
"A fat custard moon was splat in the purple sky . . . "
There are so many reasons why I love this description:
1) is that this is the most creative way I may have ever seen the moon described.
2) it fits the voice of the character who is 15 years old. Perhaps if the protagonist was an old man, the moon would have looked more like an alkaseltzer tab that just fell into the cup or something like that.
3) it gives a great visual w/o using too many adjectives. From this small amount of words I'm imagining a full moon on a hazy night. The sides of the moon aren't crips and distinct, but more soft and rounded. And it's late sunset. all that from 10 words.
This reminds me of a phrase used by Mark Twain where he describes a frost as "Fairy-work frost" What a concise and creative way to describe a sparkling, intricate design on a window pane.
~giggle~ excuse me. I'm just getting all giddy talking about it. I LOVE this stuff!
4) It sets the scene for what's about to happen. The soft dreaminess of the scene reflects the converstation that's about to take place.
5) this type of description challenges me to look at the world in a different way. Last night as I tried to fall sleep, I didn't count sheep. Instead, I thought of creative ways to describe common objects in a similar fashion to Blundell's moon description. You should try it too. It's harder than you may think. Blundell and Twain make it seem easy.
Go ahead. Do it. Pick an everyday object. A tree. The street. A building. The sun. How can you describe it using the pattern used by Blundell and Twain.
Here's a couple that I came up with:
"The ragdoll willow flopped in the storm."
"Pixie-winged blossoms rode on the breeze."
What things do you get excited about when you read?